For Sale / Germany / Info
Country House with garden on the river, 2 garages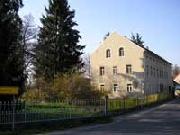 Located at
Sachsen, Germany, LAUTITZ, Cunnewitzerstr.
Sale information
Region:
Germany
Price:
€ 31,000

The house was built around 1900 and includes:
- grounds of 1.300 m2,
- the big house, with a total floor-surface of around 200 m2,
- 2 garages.

The house dominates a tiny village and has a nice view.
It faces a local road which is not busy.
Behind it stretches a big garden, lawn, ending on a small river.

The interiour needs updating.
Water, electricity and telephone are ready available on the premises.

For informations and for more pictures go to:
tel. +3 161616 4000
or
GSPELT@gmail.com
The description is available in no other language.