For Sale / Germany / Info
Town Villa in Bautzen with Nebengebäude + 3 garages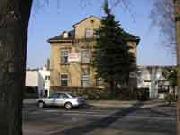 Located at
Sachsen, Germany, Bautzen, AM ZIEGELWALL
Sale information
Region:
Germany
Price:
€ 89,000

Big Town Villa built in 1885;
1 side house on the left from 70-ies, about 100 m2;
a 2nd side house to the right of about 100 years old, 90 m2.
In the back yard are 3 separate garages.
There is about 1.000 m2 of grounds.
The Villa needs total renovation, especially the leaking roof.
View on the Park and on the adjacent Red Army-cemetary.
The description is available in no other language.