For Sale / Germany / Info
Umgebindehaus in Unesco village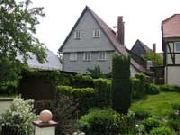 Located at
Sachsen, Germany, OBERCUNNERSDORF, Hauptstr.
Sale information
Region:
Germany
Price:
€ 31,000

This house is situated in a marvellous, Unesco protected, village, along the main street (not busy). It is a typical "Umgebindehaus", built around 1850.
A public swimming pool, with hot & cold pools, jacuzzi, is less than 1 km from the village.

The property consists,
- the Timber house with around 160 m2 of floorspace,
- big attic,
- garden, 550 m2, with 3 sheds, apple- & pear trees etc.,
- garage, directly accessible from the road.

The roof of the house has been totally renewed recently.
It is ready for having quiet holidays.

The house is a protected site.
Water, electricity and telephone are ready available on the premises.


Further informations:
tel. +3 161616 4000
or
GSPELT@gmail.com
The description is available in no other language.